Home Learning
**New** Half Term activities - stuck for things to do? Click here to download an activity pack.
**New** First News - click here for the latest edition of First News - a newspaper written for children.
**New** Well being - click here for a wellbeing activity calendar and click here for some wellbeing games.
**New** Worried about your child's mental health during these very strange times? - Click here to find out how you can support your child.
First News - click here for the latest edition of First News - a newspaper written for children.
Play, Enjoy, Learn - free educational resources for children and parents. Click on the picture to access the site.

Everybody worries - A picture book to share with your child if they are worried about the Coronavirus. https://en.calameo.com/read/000777721945cfe5bb9cc?authid=Xu9pcOzU3TQx
First Aid champions - Teach your child some basic first aid. https://firstaidchampions.redcross.org.uk/primary/
Love reading 4 kids - Books to read/listen to for free. https://www.lovereading4kids.co.uk/blog/most-popular-books/free-books-to-enjoy-6084?fbclid=IwAR2oHhwVCUNO5leNLoALjrQZ8C8VeSlBmB3NfD-te9DyZGHfRSNrbqzl4a4
Mental Health awareness week (18-24 May) - The theme is kindness - how many acts of kindness can you do for your family this week? Follow this link for further ideas: https://www.yesfutures.org/
Break a world record - drawing with Rob - Learn to draw with World Book Day author and illustrator, Rob Biddulph, break the Guinness World Records title for largest online art lesson ever and raise money to fight COVID-19! 21st May 4-4.30pm. Register here: https://www.artworldrecords.com/
First News - click here to read the latest edition of First News, a newspaper written for children.
A write laugh! - Writing competition, can you write something funny? https://authorfy.com/masterclasses/awritelaugh/
Draw with Rob - would you like to learn hhow to draw animals and different characters? http://www.robbiddulph.com/draw-with-rob
Story writing - make your own story dice and start writing. Where will the dice take you? Illustrated by Nick Sharratt. https://www.beanstalkcharity.org.uk/make-your-own-story-dice-illustrated-by-nick-sharratt?fbclid=IwAR1rmy45qH3vzboxnxGtZvxjFNgMZ3LfGUHcf_QYZcA7eEwHpwWusK-t3wA
Science lessons - remote online lessons aimed at your child's year group. https://www.stem.org.uk/remote-lessons#upcoming-lessons
First News - click here to read the latest edition of First News - a newspaper written for children.
Home learning platforms - click here to see the home learning platforms we recommend.
Online safety - As we are using the internet more and more, it is important to make sure the children are reminded about keeping safe online. This is a great website which has some good online safety games and home activity packs suited to your child's age.https://www.thinkuknow.co.uk/
The book of hopes - A lovely online book to share with your children. https://literacytrust.org.uk/family-zone/9-12/book-hopes/
Wellbeing challenge - The CWMT Wellbeing Challenge is a free interactive challenge which has been adapted it for parents to do at home with their children. The idea is to encourage young people to think positively about their mental health. You can sign up for a free pack which can be emailed to you or you can request a pack to be sent in the post. https://www.cwmt.org.uk/wellbeing-challenge
Meaningful May - This Meaningful May Calendar has daily actions for May 2020 to help us respond to this global crisis with a sense of purpose and meaning. Click here to download it.
Self care kit - It's really important to look after ourselves and each other at this time. Click here for a leaflet produced by Sheffield NHS, this is a useful guide to share with your children.
Oak National Academy - On here you will find a number of online lessons for specific year groups.Teachers are teaching the lessons which is followed by an independent task. https://www.thenational.academy/online-classroom
First News - click here to read the latest edition of First News, a newspaper written for children.
Maths on the move - click on the year groups for a home challenge sheet: Year 1 & 2, Year 3 & 4, Year 5 & 6
Monster phonics -for free acces Username: login Password: homelearning https://monsterphonics.com/
Free 'Kid normal' audio book - The National Literacy Trust are teaming up with different authors - this week it is Radio 1's Greg James and his book 'Kid Normal.' You can download an audio book for free and write your own story. https://literacytrust.org.uk/family-zone/
Coronavirus - FREE digital information book for primary school age children to help explain the coronavirus and the measures taken to control it. https://axelscheffler.com/books-for-older-children/coronavirus?utm_source=Twitter&utm_medium=social&utm_campaign=SocialSignIn
Natwest - Money sense home learning. Activities, games and resources to teach your child about money. https://natwest.mymoneysense.com/home/
Apply for a Blue Peter badge - they are asking you to send in a creative contribution to earn your badge. This could be a poem, a story, some artwork, a model, a recipe, a suggestion for the show, or an interesting letter telling them about something you have done linked to your hobbies and interests. https://www.bbc.co.uk/cbbc/findoutmore/blue-peter-apply-for-a-blue-badge
BBC Bitesize daily. On 20/4/20 the BBC are launching daily lessons. https://www.bbc.co.uk/bitesize/dailylessons
Fun activities . Running out of ideas? Click here for a few more.
Coding with Bill Gates. Follow this link if you're missing your computing lessons and enjoy a bit of coding. https://code.org/break?utm_source=announcement&utm_medium=email&utm_campaign=code-break-2020&utm_term=episode-5&utm_content=code-break
Earth Day. Did you know it's Earth day on April 22nd? Click here to find out what you can do. https://www.earthday.org/
Maths games - This is a good website for Maths games. You can choose your child's age range at the top and then search games by topic.https://www.topmarks.co.uk/maths-games/5-7-years/times-tables
3D Geography - A fantastic website for learning about rivers, coasts, volcanoes, weather, rinaforest etc https://www.3dgeography.co.uk/
DK Find out about - a good website if your child is interested in lots of different things https://www.dkfindout.com/us/
BBC Teach - You can use BBC Teach for free. Their website is home to thousands of free curriculum-mapped videos, arranged by age-group and subject. https://www.bbc.co.uk/teach
Gov.UK - The government have produced a list of resources you can use at home, many of which are on our website. You might find it useful to have them all in one place: https://www.gov.uk/government/publications/coronavirus-covid-19-online-education-resources/coronavirus-covid-19-list-of-online-education-resources-for-home-education
Off school - 100s of videos created by teachers that demonstrate fun, quality activities that can be recreated at home, there's also links to great websites that can support you across lots of topics and themes. Different zones you can choose from - activity, competition, parent and teacher zone. https://offschool.org.uk/
The great indoors - Although the Scouts are known for being outdoors, they have devised a list of activities so children can learn new skills whilst indoors. https://www.scouts.org.uk/the-great-indoors/
Get crafty - click here for a dough lockdown plaque. Click here to get crafty with egg boxes. Please send any photos to This email address is being protected from spambots. You need JavaScript enabled to view it. we would love to see your creations. Thank you to Amelia T for sending us a photo of your beautiful Easter garden. Thank you to these two boys too! Molly has also made an Easter wreath and a garden - beautiful!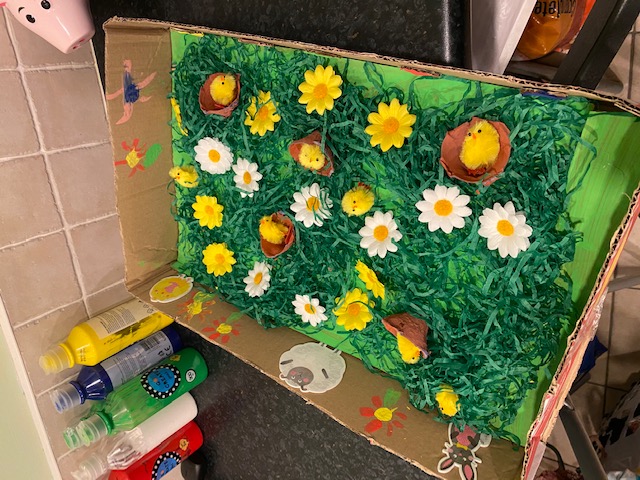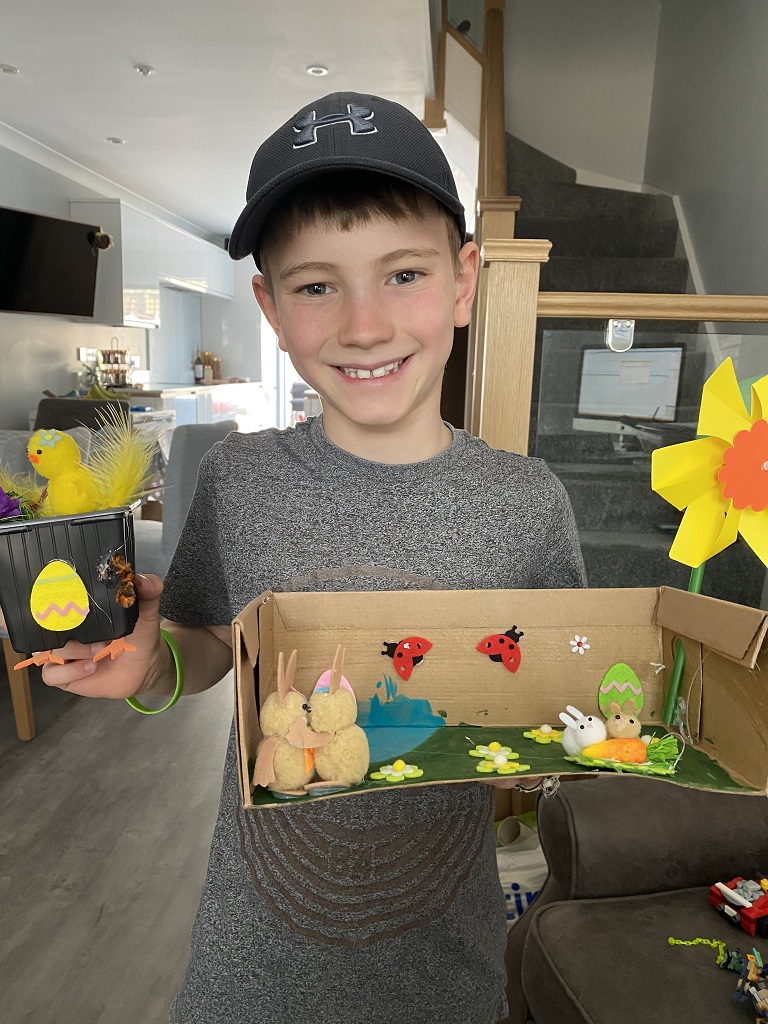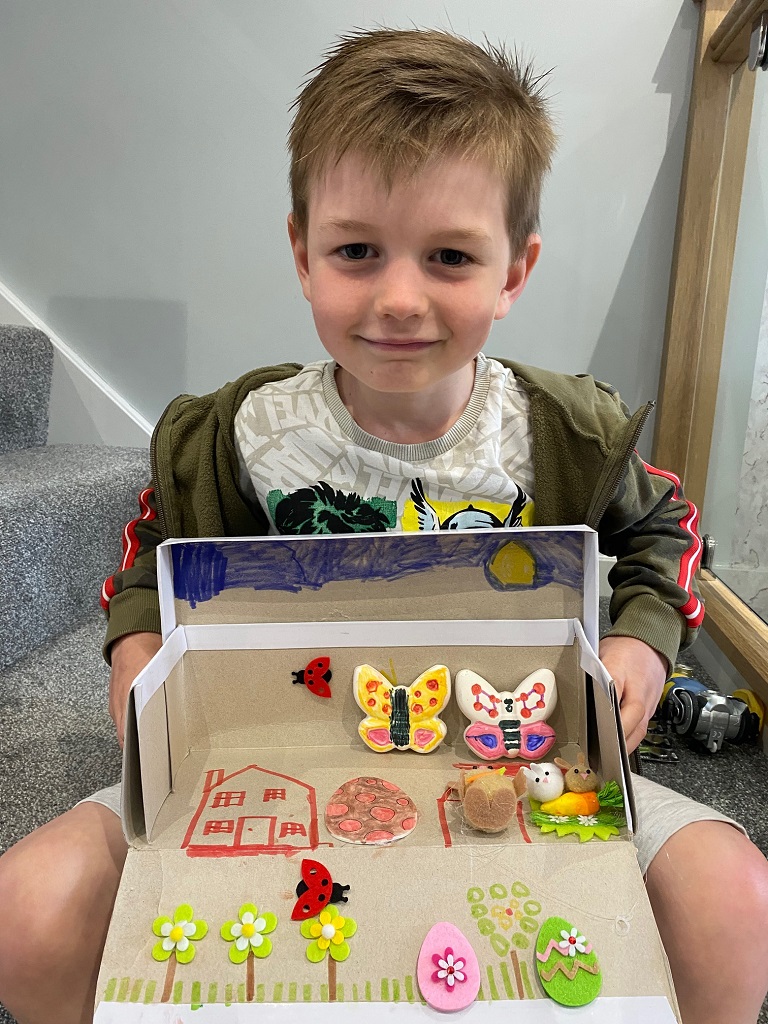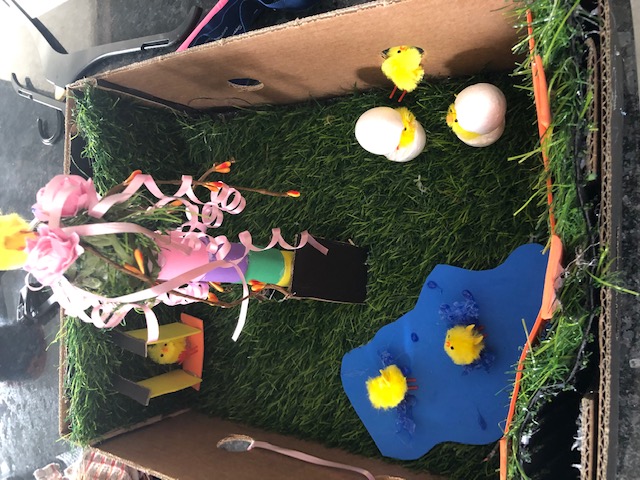 Robotics - If Robotics interests you, follow this link to build a robotic hand: https://www.sciencebuddies.org/stem-activities/build-a-robot-hand?from=Newsletter OR if you would like a robot to make you a sandwich https://www.sciencebuddies.org/stem-activities/robot-make-sandwich?from=Newsletter WARNING this might be messy!
Heads together - If you are concerned about your own, or a family member's mental health at this time, you might find this website useful. https://www.headstogether.org.uk/coronavirus-and-your-mental-health/
Out of the Ark - If you fancy a bit of a sing along, have alook at this website - they suggest a new song everyday, we're sure you'll recgonise some of them! https://www.outoftheark.co.uk/ootam-at-home/?utm_medium=email&utm_campaign=OOTAHOME%20Week%204&utm_content=OOTAHOME%20Week%204+Version+A+CID_3297e7a012f63bcc3f6894852f049c9d&utm_source=Email%20newsletter&utm_term=TOGETHER%20ON%20TUESDAY#tuesday4
First News week 4 - click here to read the newspaper written for children.
First News week 3 - click here to read the newspaper written for children.
Reading - please make sure you keep up with your reading whilst at home. If you've run out of books, don't forget to look at some of the weblinks below as there are lots offering free books. It's not just you - click here to see which books we are reading. Read, read, repeat: here you'll find some ideas if you need some reading inspiration.
Eco ideas - thank you to Mrs Owen who has put together a list of ideas so we can keep looking after our environment. Please click here to open the document.
STEM activities - if you're missing your science lessons you can try one of these experiments: it also has the science behind it so you can find out what is happening and why. Please click here.
Maths games - 25 fun maths games and activities which you can do at home. https://thirdspacelearning.com/blog/fun-maths-games-activities-for-kids/?utm_campaign=02_04_2020_25_Games_Activities_Blog&utm_source=pardot&utm_medium=email&utm_content=button
BBC ten pieces - if you're missing your music lessons, have a look on here as this is a resource that we use at school. https://www.bbc.co.uk/teach/ten-pieces
Virtual tours and visits - as we're now into the 'Easter holidays' some of you might be missing leaving Ashford and venturing further a field. Click here to find a list of 60 virtual tours and visits that you can go on. Email your teacher and let them know your favourite one!
Activate Camps - this group have put together some activities to keep you active at home and to stop you spending too much time on your consoles! If you're bored click here and have a look for some ideas.
Hogwarts - we know that many of you love the Harry Potter books. J.K. Rowling has a new website, where you can do quizes and tests as well as some reading. You will need an email to sign up so ask your parents to help you with this. I wonder what the sorting hat will say to you? https://www.wizardingworld.com/collections/harry-potter-at-home
A thousand hours of kindness - do you remember doing this in school? They are releasing free kindness activities. There are 7 printable activities and a video telling you all about it. Hopefully, they might help you with bringing a bit of fun and kindness into your days! And they're all doable in isolation! http://www.thousandhours.org/isolationkindness
Reading and writing - Literacy Shed + have produced some activity packs for different year groups which can be downloaded and used at home. These are really good for comprehension and to make sure the children are still reading regularly. https://www.literacyshedplus.com/en-gb/browse/free-resources
EYFS and Year 1 - If you are on facebook, there are some fabulous ideas for the younger children on here: https://www.facebook.com/mrsrunderwood/
Chester Zoo - as they are now closed, Chester Zoo have been posting their live webcams for you to watch what the animals get up to. https://www.chesterzoo.org/ they open at 10am so just in time to complete your workout with Joe Wicks.
3D animals - For a bit of fun, if you type an animals name into Google (on an iPhone or android) and then press 'View in 3D'. It brings up your camera and then 30 seconds later you have a tiger in your house! You can take a photo of the children with them and they can walk around it.
Singing - Mrs Davis has sent through some of our favourite assembly songs - why not teach your parents? https://www.youtube.com/watch?v=FOsX3VZrfL4&feature=youtu.be https://www.youtube.com/watch?v=IEey4LZLeGw&feature=youtu.be https://www.youtube.com/watch?v=da_LbBewte8&feature=youtu.be
Scavenger hunt - if the weather remains fine, set your children a scavenger hunt, can they find all the items on the list? They then need to put everything back from where they got it from! https://i.emlfiles4.com/cmpdoc/9/3/5/6/6/1/files/46611_primary-activities---scavenger-hunt.pdf?dm_i=65YE,SEE,K4WJY,2NZL,1
Science - Missing your science lessons? Have a look at what Brian Cox is doing. https://cosmicshambles.com/stayathome/upcoming-schedule
First News week 2 - click here to read the newspaper written for children.
Live learning - If you like learning on line, click here to find out what's happening and when. Many thanks to Mrs Farrar for putting this together. We've been joining in with Joe Wicks and have felt the burn!
White Rose maths - we use this scheme in school to plan and resource our maths lessons. White Rose have set up a number of maths lessons from EYFS up to year 8. Have a look and see what if this is something that you might like to use. https://whiterosemaths.com/homelearning/
Topic links for Term 5 - Yr R topic ideas Yr 1/2 topic ideas Yr 3/4 topic ideas Year 5/6 topic ideas
Weblinks - There are so many resources available online to support your child's learning. This document has links to a number of different websites and it shows you if it is suitable for EYFS, KS1 or KS2. Please click here if you would like to download the document.
Click here for: 30 things to do before you leave Goat Lees!
Daily timetable - You might find it helpful to set up a daily timetable, please click here if you would like to see an example.
PE with Joe - The Body Coach will be doing a daily workout on his you tube channel every week day morning at 9am. Don't forget to join in! https://www.youtube.com/channel/UCAxW1XT0iEJo0TYlRfn6rYQ
Phonics - PhonicsPlay www.phonicsplay.co.uk is now free to access. There is no need to set up as a new user, simply use the log in details provided on the homepage.
First News - Please click here if you would like to read 'First News' a newspaper written for children.
Reading - audible have given access to hundreds of stories for your chidlren to listen to (all for free) whilst our schools are closed. https://stories.audible.com/start-listen
Special Educational Needs - If your child has SEN they may not be accessing some interventions and strategies that help them. Mrs Crockford has put together some suggested activities that you could do at home with your child. Please click here if you would like to download the suggestions.
Speech, Language and Communication needs - if your child has SLCN, please follow this link to the parent portal where you can find activiites and resources to support your child at home. https://speechandlanguage.info/parents